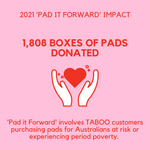 2021 'Pad It Forward' Australian Period Poverty Impact
This year at TABOO, we redesigned our 'Pad it Forward' program to address period poverty in Australia. The program involves TABOO customers purchasing a $7 subscription to donate pads on a monthly basis. The TABOO team then distributes these pads to Australian communities who need them. This year we donated 1,808 boxes of pads across Australia! 
Period poverty is a complex social, health, financial and economic issue encompassing the following: 
Lack of access to clean period products 
Inability to afford period products 
Inability to change period products in private as often as necessary 
Lack of access to soap and water while menstruating
Lack of access to safe and convenient facilities to dispose of used period products 
Limited or no education on the menstrual cycle and how to manage it with dignity and without discomfort or fear 
Those experiencing period poverty often use alternatives to period products (e.g., toilet paper, chux, socks, newspaper) and wear period products for longer than the recommended time. There are many health, social, financial and economic consequences of this!
Period poverty needs urgent attention - it is an issue that disproportionately affects the unemployed, students, people experiencing homelessness, those displaced due to domestic violence, Indigenous Australians and the LGBTQIA+ community. 
Our Pad It Forward program is structured to provide product to these different groups of people affected by period poverty through partnering with different charities and organisations within Australia. 
Pad It Forward is a fantastic way to tangibly tackle period poverty in Australia. We have amazing menstruators who purchase product for themselves and a subscription for Pad it Forward. We also have many amazing individuals who don't menstruate but purchase a Pad It Forward program to contribute to the mission.
Consider purchasing a Pad it Forward subscription for $7 a month if you want to be a part of the movement to eradicate period poverty here in Australia. 

Take a look at the Pad It Forward subscription here!