TO support PEOPLE EXPERIENCING PERIOD POVERTY IN AUSTRALIA...
PAD IT FORWARD
No that's not a typo. By utilising the "Pay It Forward" model, TABOO's period poverty program provides period products to Aussies experiencing, or at risk of period poverty.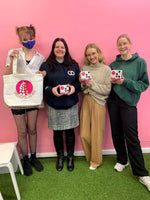 but wait,
What is period poverty?
Period Poverty is a prevalent issue in Australian communities. Period poverty is experienced when someone does not have access to period products, menstrual health education, sufficient sanitation facilities (clean water and bathrooms), and waste management facilities to deal with their period.

At risk groups in Australia include young people, Aboriginal and Torres Strait Islander people, people living in rural and remote communities, people from lower socio economic backgrounds, people experiencing or at risk of homelessness, people experiencing or at risk of domestic and family violence, and people with disability and complex support needs, among others.
our impact
We love what our partners do, so please let us tell you...
WHO WE SUPPORT
Period Poverty is a prevalent issue in Australia. It affects at-risk groups including people experiencing homelessness, Indigenous communities, school children, people experiencing poverty, and people fleeing domestic violence, among others. Unsatisfactory period care reinforces the poverty cycle, which is why TABOO's Pad-It-Forward Program provides at-risk communities with the resources needed to break this cycle.
How Can i help?
The "Pad-It-Forward Program" allows you to purchase period products on behalf of someone else, for as little as $7 per month. These partners support people who are at risk of period poverty. We celebrate the diversity of culture in Australia and appreciate that each of our partners deliver culturally suitable educational programs, alongside the distribution of period products where appropriate. Menstruation is a sacred practice which is celebrated in different ways by different people!
donate now
we treat our partners with respect and dignity always sticking true to...
OUR VALUES

TABOO is working to address period poverty in Australia through the Pad it Forward program. We work to ensure that everyone has safe and dignified access to period products and menstrual health education to deal with their period. 

We respect that everyone's experience of menstruation is unique and access to resources and support varies significantly across the country. We acknowledge that menstruation can have  various spiritual, community and environmental values attached to it, and the education and teachings around menstruation are often culturally embedded. We will ensure that all provisions of support delivered through the PIF program are community led, culturally appropriate, with deep respect for individual experiences.
Pad it forward is proudly supported by the
hospital research foundation