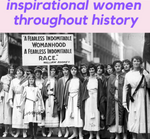 Inspirational Women Throughout History
Women have fought tirelessly for their places in the pages of history. Scientists, designers, engineers and activists have all carved out their places in what has largely been a man's world (until now?). In the month of March we celebrate the trailblazing women who continue to inspire and who have made it a heck of a lot easier for us to be us. In the words of Shania Twain, let's go girls!
Florence Nightingale 
Florence defied her upper-class parents to become the founder of modern nursing and an accomplished statistician, unheard of for a woman in 1800's England. Florence travelled to Turkey during the Crimean War to care for wounded soldiers - the first time a woman had ever performed a role like that. There she earned her famous persona of 'The Lady with the Lamp' as the checked on ailing soldiers throughout the night. In 1860 Florence founded her nursing school in London, the first professional nursing school in the world. Florence was also quite the activist, campaigning for healthcare for all classes of British society, advocating for hunger relief in India, helping to abolish prostitution laws, and advocating for women in the workforce.
Malala Yousafzai
Malala Yousafzai is an activist for female education and the youngest Nobel Peace Prize laureate ever. In 2102 Malala was gunned down by Taliban extremists on her way home from school, due to her outspoken stance on education for girls and women. Malala didn't only survive the attack, she thrived! From her now home in England, Malala established The Malala Fund, helping 130 million girls around the world receive an education. In recognition of her work, Malala was awarded the Nobel Peace Prize in 2014. Malala is now studying philosophy, politics and economics at the University of Oxford and continues her work with the Malala fund to ensure all girls, all over the world receive an education within her lifetime. Did I mention that she's only 21?!
Josephine Baker 
Josephine Baker was an American born entertainer that found acceptance and fame in 1920's France. Not only was Josephine a celebrated singer, dancer and civil rights activist but she was also an agent for the French resistance. As an entertainer, Josephine had an excuse for travelling around Europe to perform and delivered valuable information to the British. What a force of nature! In her home country of the U.S.A. Josephine refused to perform to segregated audiences and was the first African-American woman to star in a motion picture movie. Born in St. Louis, Missouri, Josephine renounced her U.S. citizenship to become a naturalised French citizen. Ernest Hemingway is said to have called her,"The most sensational woman anyone ever saw", and for once we agree with Hemingway. Her famous Banana dance and costume remains instantly recognisable to this day.
Rosa Parks 
Rosa was an American civil rights activist, instrumental in the Montgomery bus boycott. In 1955 in Montgomery, Alabama, Rosa refused to give up her seat in the segregated "coloured" section of a bus to a white passenger. As a result she was arrested for civil disobedience and violating segregation laws. Go Rosa! Rosa's steely determination inspired the black community of Alabama to boycott the bus systems for 381 days. She went on to work with with the likes of Martin Luther King Jr. and was a supporter of the Black Power movement. She forever remains an international icon for resistance against racial segregation.
The Suffragettes
The Suffragettes were an organisation of women who campaigned for women's right to vote in the early 1900's England. This was known as 'women's suffrage'. By the end of the 19th century women had won the right to vote in several countries, including New Zealand. By 1903, British women were done with being disenfranchised and led by Emmeline Pankhurst, the movement formed. Some of their methods included heckling politicians, attempting to storm parliament, going on hunger strikes once arrested, chaining themselves to railings and setting fire to abandoned buildings. They were not be messed with! Though ridiculed in the media, success came after World War I when in 1918 women over 30 were given the right to vote in England. Women who were British Subjects were given the right to vote, Australia wide, in 1902.
Words by Alicia Franceschini