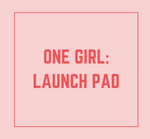 We all know that your period is a rough enough time of the month as it is. But imagine on top of it all, you have no access to pads and tampons. They're either just too expensive for you to be able to afford or you wouldn't know the first place to look to find them. Perhaps you're not even 100% sure what a pad or a tampon is or you've been told that they cause infertility! Sounds pretty unbelievable, right? Unfortunately this is the situation that many women in Developing Countries all over the world find themselves in. This is where Launch Pad comes in.
Launch Pad is a project run by Melbourne based company One Girl which aims to empower women in Sierra Leone through educating them about menstruation and providing them with access to sanitary products. This is done by training female leaders based on the ground in Sierra Leone to sell pads to women and girls at an affordable price, as well as educating them about the natural process of menstruation and how to remain hygienic at 'that time of the month'. These female leaders also receive business and financial training and keep a small profit from the sanitary products they sell. Everyone wins!
It is for this reason that pads are not given out for free to women and girls. Launch Pad wants to stimulate the local economy and empower women to earn their own money by creating employment opportunities for them. These small financial transactions foster that philosophy. Furthermore, data collected by Launch Pad through speaking with local women in Sierra Leone suggests that the women there find little dignity in hand outs. They want to be worked with in partnership and to bring about change led by women. Charging a small amount for the pads also takes some financial pressure off Launch Pad and One Girl, and allows the project to be financially sustainable.
Without projects like Launch Pad providing women and girls with access to pads and tampons, many women in countries like Sierra Leone are forced to use strips of old cloth called 'pieces' or other makeshift substitutes for sanitary products that are often highly unhygienic and hot beds for dangerous bacteria that can cause rashes or infection. Often, women do not have enough money to buy soap, so the cloth will not be cleaned properly between uses. Not to mention their unreliability for catching all of a woman's menstrual blood. When you consider the potential for embarrassment this could cause if blood were to leak onto clothing, coupled with the social stigma and taboo mensuration has in Developing Countries, it's little wonder many girls choose to miss school for the duration of their period.
To date Launch Pad has trained 680 local women to be Launch Pad Champions. They have reached 34 schools and communities in both rural and urban Sierra Leone and educated a whopping 13,052 women and girls on menstrual hygiene. In these communities and schools they've distributed more than 22,000 packets of pads. Those numbers are incredible!
It is Taboo's hope that we can one day soon support projects like Launch Pad with the funds raised through the sale of our own organic pads and tampons. We believe that our mission and vision aligns very closely with that of Launch Pad and One Girl, and would love to help them continue to empower women in Africa through education and easy access to pads. In working together with such organisations, we are strong and can strive to end period poverty and the taboos surrounding menstruation within our lifetime.
Words by Alicia Franceschini