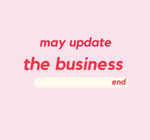 It seems as though every month we say "This has been the most exciting month so far!" (Or words to that effect). But this month, we absolutely can't deny it - so much has happened! 
The biggest milestone reached this month was finally making the payment to our manufacturer in Barcelona for the production of TABOO's pads and tampons! Our products are due to be ready for shipment to Australia by the end of the May and they will take a further 7-8 weeks to reach our shores. We can't believe that the product we've been working towards for 2.5 years is nearly here! 
Between finalising shipment details, insurance, warehouse space, the design of our subscription model and all the details involved with these processes, we've been working as a team to keep the momentum going and continue marketing. Our content girls are working hard to produce quality content for our social media, blogs and newsletters and our ambassador coordinators are workshopping the program, deciding how it will look and feel as we continue into the year. Zoe and Alex, the amazing people helping us with our website are also working extremely hard to design our digital shop front! 
On Tuesday the 28th, it was Menstrual Health Awareness Day (aka TABOO's dream day) and we celebrated with a sherry before presenting to Adelaide University's St Mark's college! We had never talked formally about the details of our mission over a dinner context (think graphic facts, imagery and description of various biological processes). But the students received it very well and we were honoured to be invited as guest speakers. We are very grateful to St Mark's, as they have chosen TABOO as one of the 3 causes to support this year! We have an amazing Ambassador, Sophie Ludbrook who lives at St Marks and makes these amazing things happen!
This month, our ambassador Sofia Arlotta also hosted an incredible afternoon tea fundraiser, raising over $300! You go girls - we're so humbled and thankful for your support.

The month of May also saw Izzy presenting to students at Scotch College assembly and Eloise was able to attend a social enterprise event at the amazing cafe "Cafe Outside The Square" - which is another social enterprise in Adelaide! (Can you tell that we love social enterprises yet?!) 
Well, the amazing month of May has come to an end and as we look back on TABOO's progress, we are humbled, excited and motivated to get started with the next one! Look out, June!!