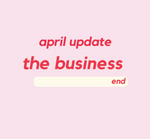 April 2019 Business Update
April was another big busy month in the TABOO HQ and that's the way we like it!
With product being in production stages, there's an exciting buzz about the place within the team. Each of our awesome core team members has been working hard in their areas preparing for the launch we've all been waiting for!
Jaida and Lolly have developed a very cool new aspect to our Ambassador program - the ambassador calendar! We have a whole bunch of dedicated ambassadors who now have a calendar of events to contribute to, to help spread the vision and mission of TABOO. Only a few days ago the Adelaide ambassadors met up to get to know one another and brainstorm some plans for the future.
Ali and Annabelle have been writing some incredible, challenging blogs aside from thriving with their other life commitments. Ali publicly represented TABOO by herself for the first time this month at an event hosted by one of our committed followers Aza. Of course, she killed it and had a blast chatting about TABOO to a bunch of like-minded women.  
We are very proud of our lovely team member Harriet who's just started teaching at Adelaide Uni this year as well as completing her honours in marketing. On top of these commitments she's been contributing to TABOO's Marketing plan for the rest of the year- She's a powerhouse!
Our dear Zoe in Melbourne has been working very hard in developing TABOO's new website in preparation for the pre-order campaign and product launch! She's been ironing out all the little IT creases so that we are set for your orders!
At the start of April, Izzy was on the panel of judges for Fish Tank competition in Unley-which was an honour to be invited back as winners of the 2016 competition. Eloise attended a rigorous pitching workshop hosted by Sharon Ferrier this month which further equipped TABOO for pitching and also Thinc-Labs' Demo day in July!
TABOO has been blessed with new accounting advisors and we're actually now really enjoying this seasons number crunching leading up to the launch! We're overwhelmed with everyone's generosity reviewing the donations we've received over the last couple of years and are as equally excited working toward this launching season.
Xx Izzy and Eloise