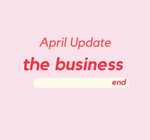 After a massive march, the team was very grateful to rest over a long Easter weekend. And rest we did!
Behind the scenes: The team has been working on some new merchandise pieces, internal processes, the new website and educational resource development. We were also lucky enough to have incredibly talented photographer Tess Newton come to the office for a massive photoshoot for our new website. Thank you Tess, and a big thank you to all the models who very generously borrowed us their lovely faces for the day. Keep your eyes out for the launch of the new website soon!
Eloise is heading up the development of our Impact Report that will highlight the impact of each department at TABOO. Eloise has also been incredibly busy finalising the relationship with our new retail stockist that we are extremely excited to share with you. Peels keep your eyes glued to our socials for this announcement.
Out and About: Eloise and Izzy spoke at the Women's Law Service SA Gala dinner 
Izzy then spoke on a panel at Piper and Alderman Law firm, all about Social enterprises 
Izzy spoke on Day 2 of the Rotary District 9510 Conference 
Izzy and Eloise were luck enough to have a strategy session with PWC 
Izzy also had a zoom presentation with St Ignatius boys School in NSW 
 Izzy presented at the Adelaide Dental Hospital, and also with Thornton Group and One Rundle Trading Company about the importance of social investment