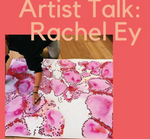 Rachel Ey is an Adelaide based artist whose work is inspired by  what you might see under a microscope. Rachel then interprets the scientific images and then turns them into beautiful and unique works of art. You might remember Rachel from our silent auction last year where she donated one of her works. What a legend! We had the awesome opportunity to sit down with the lovely lady herself and get to know her a little better. All eyes on Rachel! (pun intended)
How did you first hear about Taboo?
I heard about Taboo through one of my friends that was volunteering for Taboo at the time. I was then lucky enough to be contacted by Eloise and Isobel for a silent auction fundraiser!
How and when did you start creating art professionally?
In year 12, I found a really interesting medium using water colour and masking fluid that is quite unusual. After the SACE art exhibition, I was approached by a few people who asked if i would do commissions for them. One thing led to another and I had my first solo exhibition last year, Body Mapped. That was a huge milestone for me, and I have been doing many commissions this year as a result of that exhibition.
Has art always been a passion of yours?
Absolutely; I think being creative is a huge part of my life. It gives me something to focus on that is purely for enjoyment. My mum always took me to exhibitions and galleries when I was growing up, which inspired me even further.
What inspires your artwork?
Science! Usually, I take a concept or idea - for example, coral - and then analyse the cells and microbiology of the subject. The finished product is usually an abstract representation of the subject under the microscope, which puts it into an entirely different perspective.
Tell us about the process of creating a piece and what mediums you use?
Once I've found the inspiration I'm looking for (often photos or slides from a microscope), I start mapping out the blank space using masking fluid. Once this is dry, I paint over it with water colour. Then i might layer again with the masking fluid, and again with the water colour to create depth. Once the water colour is dry, I peel off the masking fluid to reveal the white space and colours underneath. This is the most exciting part as it all come together, and it feels like you're seeing the piece for the first time.
Do you have any exciting plans coming up for your art/life in general?
I'm hoping to have a joint exhibition next year, but that's just in the concept stage at the moment. I'm planning on travelling a bit near the end of this year and the start of next, so that will be exciting and I can't wait to see some exhibitions, particularly in Japan. Their artists are like no other! In regards to art, I'm keeping myself busy with commissions; I also currently have a few pieces hanging in cafes around Adelaide.
And lastly, tell us a bit more about yourself! Are you studying? What do you do in your spare time when you're not creating art or working with doggos? And one random fact about you!
Yes! I'm in my third year of interior architecture at the moment, so it's all getting pretty serious! otherwise, when I'm not patting dogs for my job or painting, you'll probably find me playing sport or grabbing some food with my friends. An interesting  fact about me... I hate rice, people always find that weird!