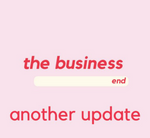 The Business End - Another Update
Since the TABOO team has been back from Kenya and India, it's been heads down, tails up - especially with our order being oh so close to Aussie shores! Thanks to our very successful crowdfunding campaign, and very generous campaigners, we have enough money to purchase our first big batch of TABOO branded sanitary products! We have been in constant conversation with our manufacturer in Europe and all is looking swell. We are now re-visiting logistics plans and printing/packaging prices with a fine tooth comb to ensure we have the most cost efficient and effective strategy possible. We are also currently working with some super groovy artists for our product's packaging design!
Back in the office, we have a Max, a wonderful intern from Adelaide Uni join us for two days per week! He focuses on marketing strategies and market research. He's a legend, we're so thankful to have him. Of course our journalist/media queen Ali has been working hard with us too, designing this wonderful newsletter you're reading, and all the other creative and wonderful things of TABOO. She's the grooviest girl, confident and clever and we are so lucky to have her! We've been meeting with some IT gurus too who may potentially jump on board the team to help us out with some tricky technical things. We're also looking to launch a new tee-shirt design ASAP which was whipped up by one of our amazing followers Tilly Balding.
This month, we have welcomed four more ambassadors to the team of now 25! These impressive young guns have been hosting fundraisers and spreading TABOO's mission all around Australia to hundreds of people from all walks of life. Our ambassadors are so passionate and powerful, we've loved watching their influence spread like wildfire across the country, thank you for all your hard work ambassadors!
A message for all you gorgeous people reading:
THANK YOU!!! Thank you so much for your patience and support. This process of getting privately labeled product to sell in Australia has proven to be painfully long and we are so grateful for the patience and support we have from you all. We are wishfully thinking that our product will be ready to sell before the end of the year and are looking to have an insanely fun launch party in January for us all to celebrate together. Of course you will be updated throughout the process and definitely nagged to come party with us in January.
If you have any questions about anything on the business end, please do not hesitate to contact us at home@tabooau.co. We aim to be completely transparent and honest so will answer all appropriate questions! Thanks again boos, we love you <3