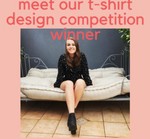 Meet Our T-Shirt Design Competition Winner - Tilly Balding
After much deliberation the Taboo team has finally decided on the winning design of our t-shirt competition! First and foremost we would like to thank every single talented artist that entered the competition, you made the job of choosing just one design incredibly difficult. We were blown away by the response and all the beautiful designs that we received. Thank you boos!
But back to the business at hand – we are very excited to announce Tilly Balding as the winner of our design competition. Congratulations Tilly! We're super excited to work with Tilly on the finalised design, which will be hitting our online shop very soon. Below is a sneak peek of how the t-shirt might look. In the meantime we've sat down and had a chat with this very creative and busy lady. So lets get to know Tilly a little better…

How did you first hear about Taboo?
I went to the same school as Eloise and Izzy and I think I heard about it because my sister was still at school and she was probably talking about it. I also saw Taboo on social media, I saw it everywhere!
What made you want to enter the design competition?
I don't really do design usually. At uni I do media but not design focused but I still like putting things together and making them look nice. I think the last design competition I enetered was in Year 12. There was a competition for designing a piece of jewelry. It was Alice in Wonderland themed and I submitted a little design and won that. My design got made into a little pendant necklace, which was really cool! I thought to myself that I should take up the opportunity to do that again because it was so much fun last time.
How did you come up with the winning design and where did you draw inspiration?
I guess that when I was designing the t-shirt, I was looking at designs that people would enjoy wearing and noticed that the horizontal stripe was having quite a moment. Big brands like Gucci and Tommy Hilfiger were using it in their designs so I thought I would too. I was mucking about with the stripes and the colours and seeing what I could come up with and then when I put it in the gradient design I realised that it was giving strong 70s vibes. I thought this would be a fun theme to roll with so I built the rest of the tee around that idea. I had a good scroll through Google, looking at 70s print t-shirts and went from there. I just hope people have fun with it.
What are you studying at uni?
I'm doing a double degree with media and arts and majoring in German. I used to live in Broken Hill and German was the only subject there and when I came to Walford the French classes were full and the only other option was Chinese. So I thought, at least I already know German so I'll stick with it. I had really nice German teachers throughout school so now I don't want to give it up. I've come too far and worked too hard!
Do you think art and design is a path you may go down in the future?
I think it's very important to have that creative perspective and ability. At the moment I'm interning at a PR company in the city and and one of the things they get me to do is design their social media posts and covers for their podcasts. It always a good skill to have, knowing how to put elements together. It's not something that I'm focusing on but its something I want to keep on the side just in case.
Do you have any exciting plans coming up?
I still have a year left of uni so I'm not looking for a job just yet. I'm just trying to get as much experience as possible at the moment.
Quick fire questions:
 Cats or dogs: dogs
Pineapple on pizza yes or no: yes
Coriander yes or no: yes but I don't really pay attention to it
Summer or winter: Summer, definitely I love it
Hot chips or potato gems: Hot chips but what are potato gems?
Tomato sauce or gravy on said hot chips: Tomato sauce, it's a classic
Pads or tampons: Tampons
Words by Alicia Franceschini