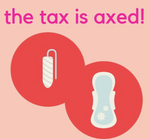 It's official. Say Goodbye to the Tampon Tax Australia. This morning the Treasurers of the states and territories unanimously agreed that the tax needed to be scrapped. The GST will no longer be applied to pads and tampons by January 1st 2019. This means you stand to save 10% at the checkout. Woohoo!
The move is said to cost the states around $30 million a year in revenue. Federal Treasurer Josh Frydenberg said it would take a few months of liasing with the public to decide upon which specific products would be classified as 'feminie hygeine' and would therefore be GST as of January.
Prime Minister Scott Morrison called the change to the tax 'common sense' and that it had always been the Liberal parties view that tax needed to be removed from sanitary products.
Words by Alicia Franceschini