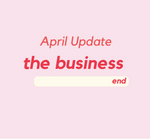 April has been one of the most interesting months for TABOO so far, mostly due to this hugely historic season of learning to manage the impacts of COVID-19.
In terms of activities, like most businesses', things were a bit quiet for our team as we weren't able to present at any schools or attend any events due to the safety restrictions in place for COVID-19! However, that certainly hasn't stopped us from preparing exciting things from home. We've been fortunate enough to work with a fantastic local marketing team throughout this month (via Zoom of course), planning some super fun activities for our TABOO family for this isolation season! Keep your eye out for them on Instagram and Facebook @taboosanitaryproducts.
On the 7th of April we checked in with our amazing partnered charity OneGirl and were educated about how people in Sierra Leonne and Uganda are coping through this pandemic. It was a very encouraging chat that gave us a fresh drive and a new perspective on the effects of COVID-19. Our community proudly raised $268.80 for the OneGirl emergency appeal through the sales of TABOO merchandise this month, of which we are very thankful for. If you'd like to donate to this appeal further, please visit https://www.onegirl.org.au/emergency-appeal2020.
On the 3rd week of April, co-founders Isobel and Eloise recorded a podcast with Nic from futureanything.com which was lots of fun! We are excited to share with you the finished podcast so you can hear an honest chat about being young entrepreneurs.
Isobel and Eloise also ventured off to Foodbank in Adelaide to deliver some pads and tampons. This incredible organisation will be dedicating this product to people who need it the most in their homes through this season. We are super excited to see how this relationship will grow in the future as we LOVE their mission and execution and can't wait to be a part of it in a more regular way.
As always, we have our brilliant incubator space at ThincLab checking in on us monthly, which brought us an encouraging and productive time of planning, and business discussion with many other like-minded businesspeople.
This month, we have felt very privileged to provide many people an online delivery service of our products and have been thankful for good health and positive thinking amongst the team! We hope you are all staying healthy physically and mentally as best as you can during this season, we know it's hard, but we will get through this!
As always if you'd like to get in touch with us directly, please shoot us an email at home@tabooau.co.
Love always!
TABOO HQ