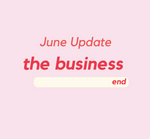 Our team has been tirelessly working away at some AMAZING things this June. Our biggest triumph so far, is that this month, our product has been introduced into 144 new stores! Firstly, a fantastic local business, National Pharmacies has introduced our product into 22 stores around Australia, 19 in SA, 2 in VIC and 1 in NSW! It's an incredible opportunity to represent the first organic range in these stores. We are also now the first organic range in 122 OTR stores around South Australia! We are overwhelmed by the support both of these local businesses have shown us and can't wait to watch these partnerships grow even further!
Period poverty in Australia is an issue that is sadly prominent, and one that we are dedicated to tackling as a business. In response to this, OTR have generously decided to purchase TABOO product, to donate directly to Kickstart for Kids! This is a charity we have closely followed for a long time and feel blessed to be a part of the life changing work they do for vulnerable children in SA. Selected schools can now order our pads from the Kickstart for Kids breakfast program, to distribute to young people in need of the product.
In the near future, we are looking to introduce a more practical way in which you, as a member of the TABOO community can assist in helping Australians tackle period poverty. We can't wait to share that opportunity with you soon!
This month we have also been blessed with a new volunteer, Alva! This spritely young woman will be joining our marketing team to help us further tackle period poverty! She will be heavily focussed on email marketing so you may hear from her soon!
As always if you'd like to get in touch, please reach out at home@tabooau.co.